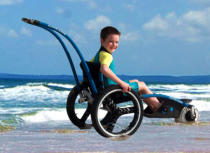 Beach Wheelchairs..........Beach Buggies.........Explore.......



Hippocampe
Designed for use on the beach and
into the sea, for adults and
children, this is the ideal choice
for access to the sands. The basic
model comes with a push handle,
tow rope, adjustable height
backrest, and a travel bag.
Optional extras include:
Balloon wheels to spread the
weight still further across the sand
to allow access to soft dune
beaches.
Waist Belt
Harness
Armrests
Headrest
Snow Skis
Available in Small, Medium, Large
and XL the seat dimensions remain
the same whilst the distance from
the seat to the front wheel
increases. Blue or Pink frames are
available.


Delta All-Terrain Buggy
Designed and manufactured in the
UK this lightweight robust 3
wheeler offers access to previously
inaccessable places. Whether you
enjoy the beach or country parks
or long walks with the dog, the
Delta is the perfect companion for
you. Folding quickly and
compactly and with dual rear
brakes, a supportive canvas and an
adjustable footplate family walks
will soon become a pleasure. The
standard Delta includes a
lightweight alumimium frame,
supportive canvas, 5 point
harness, luggage bag under the
seat, adjustable height push
handle, a swivel anti tip device,
quick release wheels, an
adjustable folding footplate,
footstraps and heel loops.
Optional extras include:
Sun Canopy
Rain Cover (Small and Medium)
Beach Wheels (Quick release
double tyres designed to spread
the load)
Wedge Cushion
Pommel
Travel bag
Available in 5 sizes and various
colour options to suit children
from 6 months and adults up to
190cm or 90kg.


Delta Trail
Designed to convert the Small and
Medium Delta into a bicycle trailer
this Trail bar has been engineered
to keep the Delta upright even if
the bicycle falls over. A simple
mount to the saddle post allows
mutiple cyclists to tow the buggy.
An easy to fit Roll Bar completes
the kit necessary to ride off into
the sunset. The front wheel of the
Delta stores in the under bag for
use when you reach your
destination.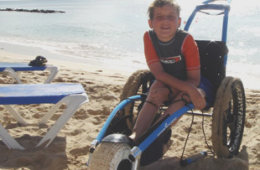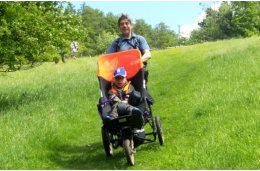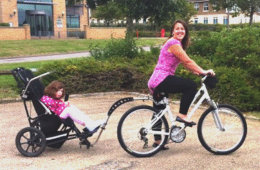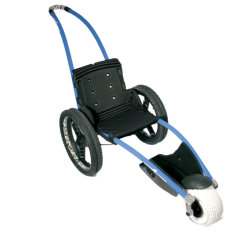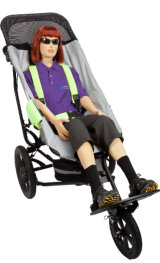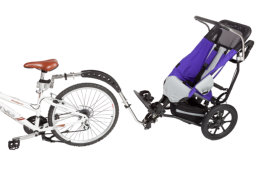 Products

Beach Wheelchairs & All-Terrain Buggies